CooL Compressions CPR offers the American Heart Association's (AHA) Family & Friends® CPR Class for those who just want to learn how to perform CPR but do not need a certification.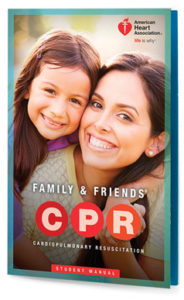 This is the CPR class the whole family can take.  Teaches the lifesaving skills of adult Hands-Only CPR, adult and child CPR with breaths, adult and child AED use, CPR for infants and airway blocks for all ages. Learning within a dynamic group environment, you will learn by practicing while watching, a research proven method that allows you the most hands-on training time possible.
This course is for those that DO NOT need a certificate but wants to have the knowledge of performing CPR.   You practice the skills as the video guides you through the steps.  The big advantage is that you have a highly-skilled instructor and manikins you practice on that give direct feedback.
The AHA Family & Friends® CPR Class is for people who want to acquire CPR skills but do not need certification for their workplace or career. The course is perfect for community groups, babysitters, new parents, grandparents, moms, dads and anybody that wants to prepare themselves for an emergency situation.
No certificate will be given out for this course.  If you need a certificate style course,  please see the AHA HeartSaver® CPR AED Course or the ASHI Basic CPR and AED Classroom Course.
Course is instructor led
Requires workbook
Course length: 2-3 hours
---
*All CPR and AED Certification Classes are taught by an, American Heart Association (AHA) certified instructor and follow the 2015 AHA Guidelines Update for CPR and ECC for all classes.